Hey courageous creators,
Finally the day has come: my second eBook, a collection of three of my short stories, is now available for purchase!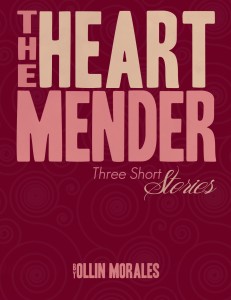 About this book:
These three short stories were first featured on the blog, Courage 2 Create, through a now discontinued series on the blog entitled "Featured Short Stores." These three stories were so engaging and so enjoyed by Ollin's readers when they first appeared that–to this day–readers are still asking him for more.
Designed to surprise and subvert the readers expectations, these short stories are enjoyed far more if little is known about them before the reader goes on the adventure.
The first story starts with a man looking to heal his broken heart by visiting a mysterious healer; the second story begins with a professor taking his family on a plane ride to an unknown destination referred to only as "The Last Refuge;" and the last story begins with an anti-social loner who delivers a letter whose contents remain hidden and whose recipient remains a mystery until the very end. But where all these short stories begin says nothing about how they will all end.
All that can be said is that these stories are meant to be experienced and felt for their true meaning to be revealed to the reader.
The Heart Mender: Three Short Stories
by Ollin Morales
(Kindle Version) – Price: $4.99
The Heart Mender: Three Short Stories
by Ollin Morales
(ePub version: for iPad, Nook, and other devices) – Price: $4.99
The Heart Mender: Three Short Stories
by Ollin Morales
(PDF Version) – Price: $3.99
(A paperback version is currently unavailable) 
I'd like to thank my friends, family, and my fans for all of their love and support. It's because of your constant urging that I finally got around to putting all of these stories together.
I hope you enjoy them!
Spring Break
I will be on a brief hiatus from the blog for the next few weeks. In the meantime, I'll be featuring classic C2C posts for your enjoyment.
New posts on the C2C will return May 12, 2014.
Spring Giveaway!!!
In honor of today's eBook launch, I am giving away 5 free copies to the first 5 readers who comment on this post.
Ready. Set. Go!
Have a fun Spring break everyone!
much love,
Ollin
The first five people to leave a comment will get a free copy of my new eBook of Short Stories!
…
To follow the Courage 2 Create and find out what happens to Ollin and his novel, you can subscribe by inserting your e-mail into the subscription box in the top right corner of the sidebar! Subscription is completely free! Thank you for subscribing!
Like Courage 2 Create's Fan Page.

Follow Ollin On Twitter.
Friend Ollin On Facebook.
Buy Ollin's eBook